12 Famous Men Who Do Yoga (Or Did)
At So We Flow..., we recognise the benefit of a good role model or two. But yoga can be a very private practice, so we've had to do a little digging to see who our yogi heroes are.
Here are twelve leading men from the world of yoga, sport, music and the big screen.
12 Famous Men Who Do Yoga (Or Did)
Lebron James - Yoga Revolutionary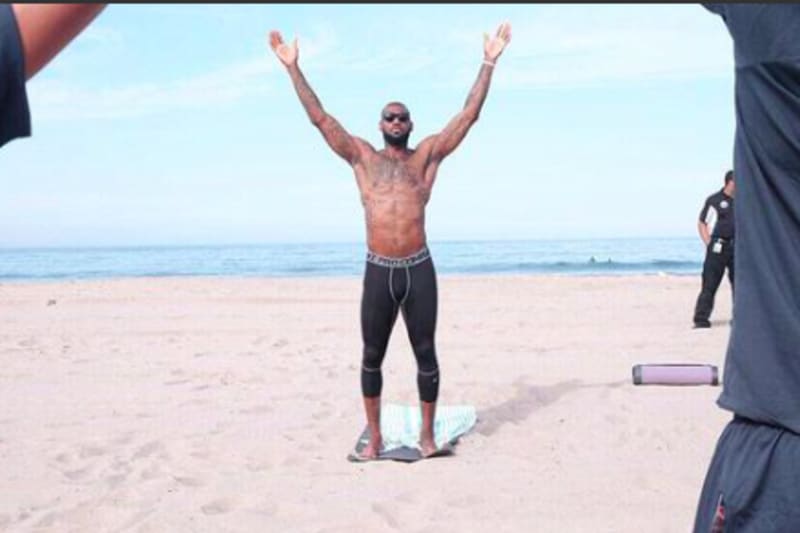 Image credit: Twitter
LA Laker and four time NBA MVP, James, is one of the greatest NBA stars of all time. After missing vital court action due to leg cramps, he took on the ancient art of yoga. And BOOM! It helps him centre and carry the emotional weight of championship expectation. He says, 'Yoga isn't about the body, it's about the mind.' Never a truer word said, Lebron.
BKS Iyengar - Yoga Daddy
The 'father of modern yoga' and founder of Iyengar Yoga was named one of the most influential 100 people in the world by Time Magazine. Bellur Krishnamachar Sundararaja Iyengar died in 2014, but he was credited in life with popularising yoga throughout India and the western world. He says, 'Yoga is a mirror to look at ourselves from within.' Amen to that.
Ryan Giggs - Yoga Baller
Image credit: Christopher Nunn
Manchester United legend, Welsh football coach and owner of Salford City, Ryan Giggs, credits his record-breaking career to the benefits of yoga. He says, 'It works not just your hamstrings, groin and quads, but also your calves, glutes, lower back, neck, sides and core. It helps to prevent injuries and makes you more supple and flexible.' That it does, Ryan.
Goldie - Yogangster

Clifford Joseph Price is now fiercely committed to yoga, but prior to finding inner peace, he was inconsistent and spent time fighting his own shadow. He says, 'Yoga has cleared my mind, and helped me get in touch with my feminine side. On the mat, I need to be the student.' Goldie started Bikram at 44 and was immediately encouraged to ego-drop. Bosh! He actually owns his own yoga clothing company as well - sharing is caring so check it out if we don't do it for you.
Sting - Yoga For Every Breath You Take (Sorry, We'll Get Our Coat...)

He's knocking on a bit, but his body is the envy of men half his age. Sting says, 'Yoga is a great way to offset the downsides of touring by bringing much-needed peace and sanity into what can be a hectic life.' It's 60-90 minutes every day before breakfast for this Englishman in New York, and he doesn't look like stopping anytime soon. 
Owen Farrell & England Rugby - Stereotype-Crushing Yoga

Image credit: Hotpod Yoga
Rugby players around the world are adopting yoga and using it to take their game to the next level. Owen Farrell's personal preference is hot yoga, specifically Hotpod Yoga, whom have a partnership with the Rugby Players Association.  'Using Hotpod Yoga has had a big impact on my recovery post-game, in particular. The pod's uniquely well suited to take me away from what's going on outside. I'd definitely recommend Hotpod Yoga to any professional athlete who wants to improve their mental and physical condition.'
Swami Sivananda - Yoga... Proper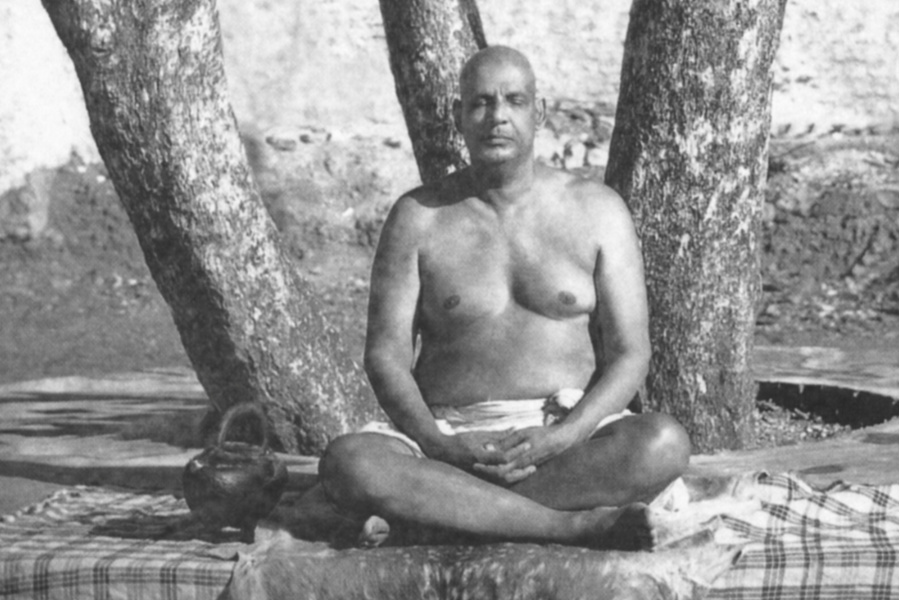 Sivananda Yoga was founded in his ashram in Rishikesh promoting proper vegetarian diet, proper relaxation, proper breathing and proper exercise. Proper. Swami Sivananda says, 'Life has meaning only in the struggle. Triumph or defeat is in the hands of the Gods. So let us celebrate the struggle!' Come on gents, let's get on with all that hard stuff on the mat. 
Jon Bon Jovi - Good Medicine

To help on tour and under the guidance of his Coach and Nutritionist, Jon Bon Jovi does yoga. 'I was doing workout for 101 years' he said, 'Now I'm doing yoga and I like it. I'm a twenty-first century man.' However, when bandmate Richie Sambora was asked if he dabbled in a bit of Pigeon or Skandasana, he said, 'Shit no, I'm from Jersey.' We hope they work it out.
Matthew McConaughey - Interstellar Fella
Image credit: Just Jared
True Detective and Tropic Thunder beach bum, Matt McConaughey loves to throw shapes and get meditative. He has transformed his body for roles like Magic Mike and Dallas Buyers Club, and that takes some real physical self-mastery. His personal coach says, 'His fitness is through the roof. He can do hundreds of press ups and he's flexible from yoga.' Shexy!
Russell Brand - Loquacious Yoga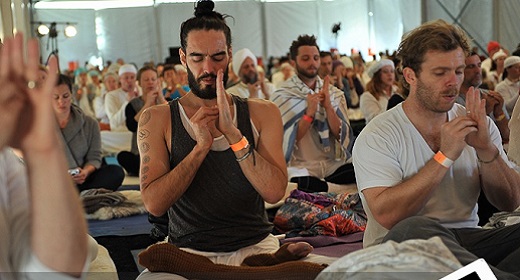 Image credit: Carl Kerridge
'Is yoga a necessary salve to the problems of contemporary living?' asks Brand. 'Is yoga a physical way of incorporating spirituality into your daily life? Is yoga much more than aerobics with incense?' We'd say so, Russell. 'Sometimes I'm lumbering and cumbersome and hopeless, but with regular practice I feel a carapace of mud cracking off my body and mind.'
Chris Hemsworth - Hot Yoga

He has a state-of-the-art gym in his mansion, but he still loves the simplicity of a few Cat-Cows on the beach before the surf. His wife, Elsa Pataky has shared cute pictures of him teaching their daughter yoga, and Chris has even recorded meditations for kids on his health and wellness app, Centr. We'll have a little bit of whatever he's taking any day of the week.
Robert Downey Jr - Yogi Stark

Image credit: Men's Fitness
Robert has bounced back to success after success having been trapped in the quagmire of drugs and addiction, and arrested in 2001 for possession. He kicked his addiction and has stayed clean through a combo of 12-step programs, yoga, meditation and therapy. If becoming Iron Man isn't enough inspiration to take up yoga, we're not sure there's much more we can say.
Bonus - Paul Newman
Image credit: unknown
We don't actually know if Paul practiced yoga - he probably didn't - but here's him doing a rogue headstand variation with actress Joanne Woodward back in 1958. 
---
Thanks for reading, 12 Famous Men Who Do Yoga
Do you have a secret yoga man crush? Who is your role model when it comes to your yoga or movement practice?

At So We Flow... we want to hear from you, so drop us a comment and tell us who to follow.
---